Verification agent with line cleaning properties, in powder form for use in the beer and soft drink industry based on the
THONHAUSER PERSULPHATE TECHNOLOGIES
DISPENSING SYSTEMS CLEANING WITH THE TM COLOR INDICATOR Not only does THONHAUSER DISPENSING SYSTEMS CLEANING offer high-tech-cleaning and oxidation, but also the control of this cleaning success in real time via the color indicator.
Through color change of the cleaning solution, the integrated color indicator shows any existence of any contamination within the pipe and thus provides the possibility of immediate control of the pipes' cleanness. Consequently, service technicians have the possibility to check the dispensing equipment's cleanness in a simple way. This means more quality control in the beverage industry, right to the glass of the customer, by guaranteeing clean beverages and happy consumers.
Monitoring of the cleaning process and inline verification with COLOR INDICATOR. CHLORINE-FREE with ACTIVE OXYGEN.
| | | |
| --- | --- | --- |
| STEP 1 | Add powder | Fill cleaning container with 1.2 gal of warm water (100 F), add 1.6 oz (45 g = 1 sachet) of TM DESANA MAXfp. |
| STEP 2 | SHAKE: Solution is VIOLET | Close the container. Mix and shake well! Color of the fresh solution: VIOLET |
| STEP 3 | Attach container / Barrel | Attach the tap head of the beverage container, i.e. beer barrel, under CO2-pressure to the cleaning container. |
| STEP 4 | FILL TAP WITH SOLUTION | Open tap and leave running until cleaning solution flows through. Heavily soiled solution turn YELLOW. |
| STEP 5 | LEAVE FOR 3 MINUTES SOLUTION TURN GREEN | Close tap. Leave TM DESANA MAXfp-cleaning solution for 3 minutes. TM DESANA MAXfp dissolves deposits in the installation during this time and turns GREEN. Fill the pipe again with fresh TM DESANA MAXfp-solution and leave for 3 minutes. |
| STEP 6 | Repeat till no longer green | Repeat step 4 and 5 until cleaning solution is no longer Green. |
| STEP 7 | Done when VIOLET again | The pipeline is completely clean when solution remains VIOLET for 3 minutes. |
| STEP 8 | Rinse with Tap water | Rinse with tap water as follow: for 7mm I.D. tubes use a minimum of 200 ml and a maximum of 1,000 ml per meter of tubing. Verify rinsing by means of a pH-test strip: The pH of the rinsing water coming out of the tap has to correspond with the pH of original tap water. |
Compliant with DIN 6650 and HACCP norms.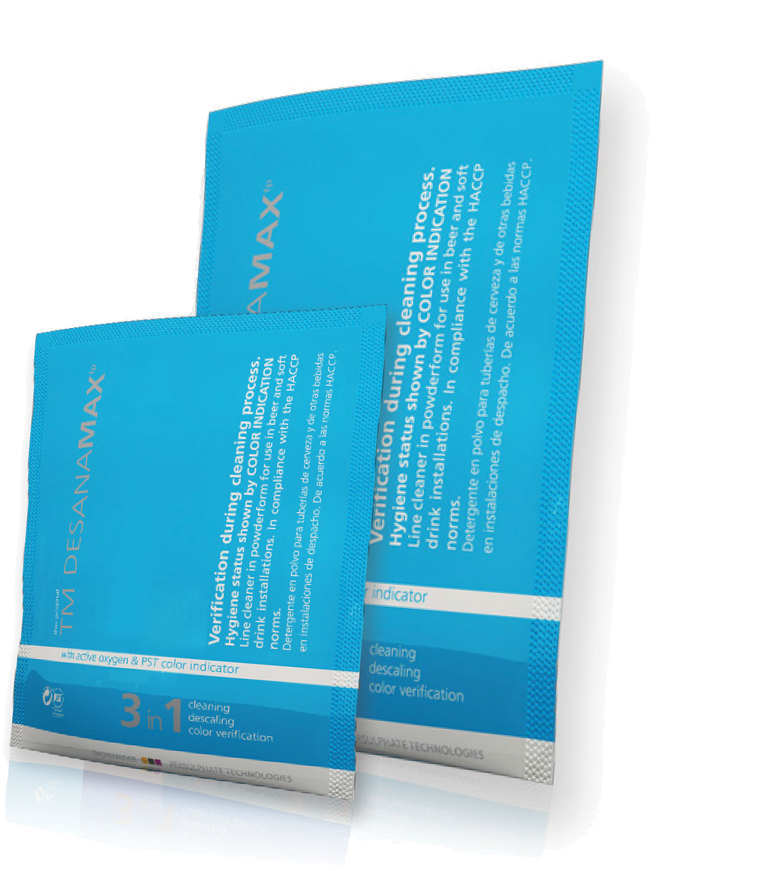 For more details please click here: http://www.thonhauser.net/en/products/dispensing-hygiene/tm-desana-max-fp/